Since Boodie's fur usually does not mat, my human gets a little lazy about grooming her. But when the weather starts warming up, it becomes really obvious that she needs grooming, badly. That's when my human takes her out to the enclosed patio, which has an easy-to-clean concrete floor, to get her fur back in order.
This is the reason why my human doesn't groom her more often — she's a real pain to deal with! She wanders off, doesn't like being restrained, and eventually goes from pathetic to annoyed. My human spends a lot of time following her around the enclosed patio with the comb and Furminator.
This time, instead of just the Furminator, or a combination of the Furminator and some cheap brush, my human used my fancy, expensive comb! I'm not sure how I felt about that. First she combed out Boodie's fur, in case there were any tangles, then she Furminated her, which created a lot of loose hair, so she combed her again.
There! Doesn't she look much improved? Don't worry, her tail didn't get Furminated off — she's just hiding it.
This is all the fur that came off of Boodie from the grooming session! It's about typical of the piles of fur she creates after a groom.
While my human was finishing up with Boodie and all the fur she left behind, my human's boyfriend showed up with some cantaloupe for me. What service! By the time Boodie was done, I had chowed down. Apparently she feels she should have gotten something too for all her trouble. (Don't worry, she actually did.)
* * *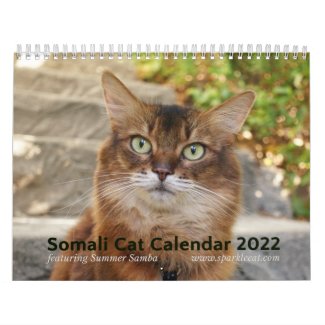 2022 Somali Cat Calendar Starring Summer Samba
See all of Summer's merch at her
her Zazzle Designercat Shop