Wow! The photo sessions from this week produced loads of outtakes to share with you today! So here's the roundup — I have way more than usual. If you are wondering about the photo above, my human got a packet of fake butterflies from Joann's Fabrics a while back and has no idea what to do with them. This is probably not the last time you see any of them… but it is definitely the last time you see one with this hat.
Here I am, a couple of hats later, making sure my paws look good, and being pretty enthusiastic about it!
My human thought it would be fun to get a photo of me looking at the cat trees on the upper shelf. Instead, it just looked awkward.
I'm presenting this photo in all its uncropped, unrotated glory. You can tell by my face, I was getting impatient with my human's attempt to get a decent photo after our therapy cat visit.
And then, not sure she got an actual usable shot (spoiler alert: she did), she took even more photos in the car. You can see what I thought of that!
As you can see, I was totally not interested in the box of chocolates under my paws. I wanted my pay up front to pose with it.
I don't know what my human found so interesting about me being a little itchy! But here I am, for the record, scratching.
My human should know by now that any photos of me sitting up are going to be fails. She even managed to cut off the better part of my head in this one.
And here's an outtake from my first day of school photo session.
Which of these photos did you think was the silliest? Let me know in the comments!
Other posts you'll enjoy:
* * *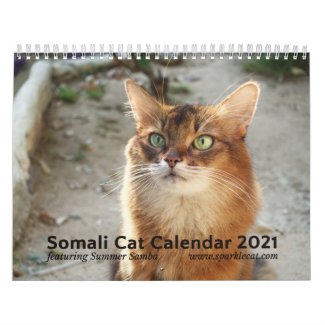 2021 Somali Cat Wall Calendar, Starring Summer
See all of Summer's merch at her
her Zazzle Designercat Shop