When I said the other day that I had enough outtakes from this week's sessions for yet another blog post, I wasn't kidding! I have even more than the ones you see below… but these are the best of the rest.
And yes, the one above is not an outtake. I just happened to flop down while my human was setting up a photo session, and she grabbed a quick photo. This is typically what I do at the beginning of a session. Now onto the rest.
I should have been pleased to be faced with all these lovely princess accoutrements. But instead I was giving my human a raspberry.
I'm sure you recognize this as being from the day the squirrels made a mess on the back patio. I do look a bit put out by their mischief, don't I?
Um, that huge brownish-black thing in the lower left hand corner happens to be my paw! Sometimes I will go right up to the camera and start messing with it. Maybe I don't trust my human's abilities as a photographer.
This awkward pose was actually taken after the other photo, although it seems like it should have been the other way around.
Here is a photo from a different session, but with me looking equally as awkward.
And here is an all-new outtake from my pet shop trip. Maybe I'm doubting my human's driving abilities as much as I am her photography skills.
I hope you enjoyed these! Let me know which ones were your favorites in the comments below.
* * *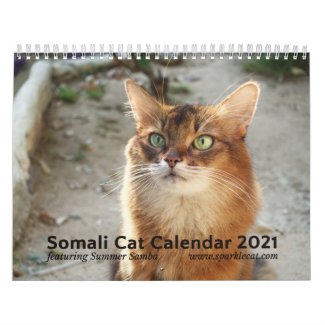 2021 Somali Cat Wall Calendar, Starring Summer
See all of Summer's merch at her
her Zazzle Designercat Shop