I was thinking of saving these funny photo fails for a few more days… but I realized I had more than enough for a whole blog post already! I'm starting with the above photo, where I was apparently trying to get even higher after already getting high on my catnip garden.
Speaking of high, here I am, giving my human a high five. Other than being a little out of focus, it's not really outtake so much as an extra photo that didn't get used.
This one is definitely a photo fail. I look like I have no idea what I'm doing.
I don't know why I look like I'm gagging here. It's not a commentary on the product. Honest!
Here I look like a pretty testy leprechaun. Maybe I'm daring you to touch my gold coins!
You didn't see this hat in the original blog post. That's because it was so obviously wrong for this session. And you can tell I think so too!
And once again, we've reached the end of this batch of outtakes! Did you have a favorite? Let me know in the comments!
Other posts you'll enjoy:
* * *
---
---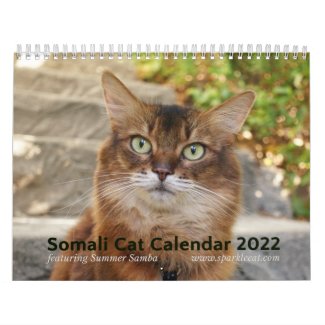 2022 Somali Cat Calendar Starring Summer Samba
See all of Summer's merch at her
her Zazzle Designercat Shop