I've done at least one (and usually more!) Valentine's Day photo sessions every year. So as you might imagine, I have quite a few outtakes piled up! This year, I thought it would be fun to share some of my funniest and silliest outtakes from Valentines past.
The first photo was from my first Valentine's shoot in 2015, and the one above is from 2016. In case you are wondering, I still have this Valentine heart scratcher house, but it's a little on the fragile side. While the photo you see is from when it was assembled, if my human accidentally bumps into it, it is instantly reduced to the condition you see here.
While my Queen of Hearts hoodie is actually really cute (like you saw yesterday), it just need some arranging to look its best in photo sessions. Here, in this 2016 photo, it just looks all kinds of wrong.
This Valentine hoodie, in a photo from 2017, fits better, but it makes me look like a housekeeper! Okay, maybe a cute one, but it's not a look I want to show off.
I don't know why I look so upset in this photo from the same year. But my human got so few decent photos of me in this little box that she never used it again for a photo shoot. It may still be sitting around somewhere, however, so don't rule it out.
And here I am, in a set from last year that I'm glad my human wound up not using. Busy much?
I hope you enjoyed these funny Valentines photos! Did you have one that made you laugh more than the others? Let me know in the comments!
Other posts you'll enjoy:
* * *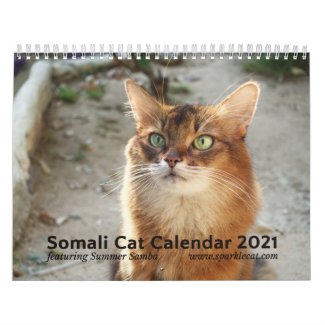 2021 Somali Cat Wall Calendar, Starring Summer
See all of Summer's merch at her
her Zazzle Designercat Shop