Yesterday, you saw my best photos of 2020 — today, I've got the best of the worst! Yep, the funniest outtake photos of 2020! A couple of these (including the one above) appeared in my 2021 Outtake Calendar. The rest of them… well, I wasn't sure what to do with them.
I have loads of photos of me wearing ill-fitting hats, both from this year and years past. But this particular photo has that je ne sais quoi, when it comes to bad cat hat photos.
This is the other photo from the Outtake Calendar, and my human's other favorite outtake photo (the first being the photo at the top of this post).
I was totally caught off guard here! My human seems to do that a lot.
I get the feeling I'll never live down this reindeer hat thing.
I hope you enjoyed my outtakes of 2020! If you want more, I've picked blog posts below that feature some of the runners up.
Other posts you'll enjoy:
* * *
---
---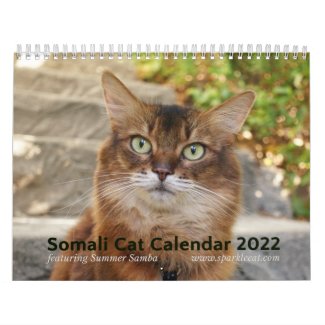 2022 Somali Cat Calendar Starring Summer Samba
See all of Summer's merch at her
her Zazzle Designercat Shop