I had a nice trip to Phoenix… but then, I always have a fun travel day! Even though I had to manage my scatterbrained human — she couldn't find her laptop bag after we went through security… because it was already on her shoulder! As we were heading for the gate, there was a kiosk that had mostly dog items, but also a couple of cat things, and my human stopped to look. The lady running it saw she had a kitty, and gave me these treats for free! That was so nice of her. Once we got to our gate, I got to sit around on my leash and eat treats and visit with other humans. My human doesn't like the way I just go right up to them without asking permission first, but usually they are fine with it. The guy sitting next to us petted me lots!
I wasn't the only pet on this flight — this dog was along too. I didn't get to meet the dog. By this time, we were already lining up to get on the plane.
Once we got to the hotel, I had to perform one of my most important tasks — testing the bed!
To be on the safe side, I tested the chair too. This is a nicer hotel than we normally stay at, so they all passed my inspection.
My human hadn't had lunch yet so she ordered a quesadilla with shredded chicken from the bar and brought it up to the hotel room. Can you believe she did not share? She said it was too spicy for me!
We had a quiet night in and we did the obligatory bathroom mirror shots of me. I'm so excited to go to the cat show! I hope some of you are in Phoenix and will stop by.
* * *
---
---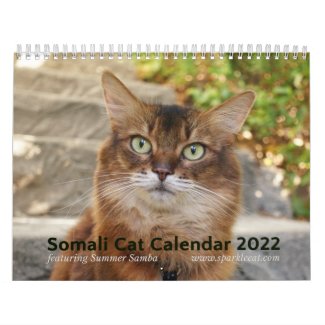 2022 Somali Cat Calendar Starring Summer Samba
See all of Summer's merch at her
her Zazzle Designercat Shop