Every month, my human winds up with a bunch of leftover photos of me that never wound up in blog posts. And it's a pity they never get seen because many of them are fun, cute, or really nice. So I've put together a round up of February photos that I think you will enjoy!
You may remember how much I loved my Yeoww! catnip heart that I got at the pet shop. Well, this photo illustrates just how much!
There were a pair of cats who, for a while, were fighting outside on my back patio at night. And one day after an argument they had, I was really fascinated with smelling everywhere they had been. In case you are wondering how I react to cat fights outside, I do get upset about it… but my human makes a point to go outside and chase them off. She wants me to know that she has it covered, and I don't have to worry.
Was my eye on the prize here! My human uses treats to get, and keep, my attention when we're outside. If only she would keep her hand on the other side of the camera lens, though!
I don't pose on this brick ledge very often, but it's a pretty spot if my human can work around the sprinkler you see in the background. She started to take some photos, and then she decided she didn't like the light on this particular afternoon and took me elsewhere.
Remember my photo session with the Mardi Gras hat? There were lots of fun photos! This one stood out among those that didn't get used.
Remember how my human posed me on the stairs, trying to get just the right amount of sun beams splashing on me? She wasn't sure about this one, although the lighting effect was interesting, so she left it out of the original post.
And lastly, there's this photo. I didn't mention on the original post, but I accidentally broke the "Kiss Me" sign off its stick during the photo session. My human still tried to get me to pose with it anyway. The result is this silly photo.
I hope you enjoyed these! If you have a favorite, let me know in the comments.
Other posts you'll enjoy:
* * *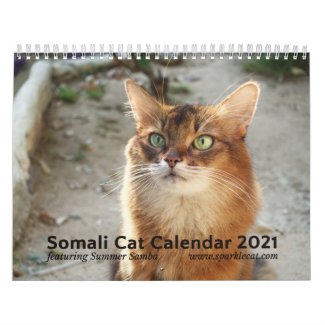 2021 Somali Cat Wall Calendar, Starring Summer
See all of Summer's merch at her
her Zazzle Designercat Shop