I have lots of fun outtakes for you, and the majority of them are from me modeling with things this week. First off is this photo, where I look gigantic next to the Litter Genie.
This photo would have been exactly what my human was looking for… if I hadn't given her the raspberry just then.
I don't know why I had the airplane ears in this photo. Maybe I smelled the bear.
Here I am, rubbing on something during my recent pet shop visit. As I am known to frequently do.
I was ready to give my human a high five in this photo… but my human wasn't!
This is my human's favorite outtake, and mine too, because it looks like the cat on the cover of Catster is copycatting me.
I hope you enjoyed this week's outtakes! If you have a favorite, let me know in the comments.
Other posts you'll enjoy:
* * *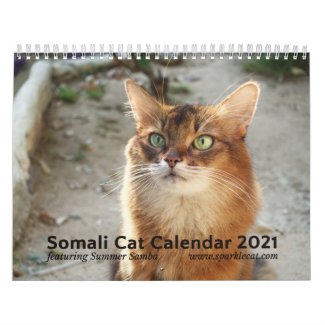 2021 Somali Cat Wall Calendar, Starring Summer
See all of Summer's merch at her
her Zazzle Designercat Shop