I had so much fun at the pet shop on this visit! My human could have bought what I needed online, but she knows I need to get out, and she likes to support small businesses. (After all, she is a small business too.) So we headed for one of our local shops.
The place is so small they can only have one customer inside at a time during the pandemic, so we couldn't stay very long. So I figured I had better make the most of my brief time there.
I rubbed on a few things.
I checked out the merchandise. There were a lot of chewy things for dogs that smelled really good!
I got petted by one of the shop employees! Don't worry, I was on a 6-foot leash, so my human was properly socially distanced.
Of course I had to check out the cat toys… and my human found a matatabi stick for me!
And then when we were checking out, my human found a turkey tendon for me! Double score! This was an awesome pet shop visit.
Other posts you'll enjoy:
* * *
---
---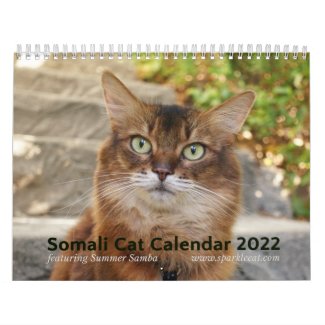 2022 Somali Cat Calendar Starring Summer Samba
See all of Summer's merch at her
her Zazzle Designercat Shop