My therapy cat visit this weekend was to the pair of assisted living facilities near our house. Although they are both for residents with dementia or Alzheimer's, the first house has people in the more advanced stages, and the second has those whose condition hasn't progressed as much.
As is often the case, many of the people in the living room of the first house weren't very responsive. A lot of them were dozing on the couches or in their wheelchairs in front of the big TV. One loud, smiling man we've seen before was happy to see me. He always is.
One wheelchair-bound woman was more cognizant than the others. I let her hold me, and although she had to ask my name four times, she carried on a conversation with my human. She cried several times because she missed her cats from her long-ago old life. It was kind of sad but I was glad to be there for her.
The second house had several people who were happy to see me, and a couple of the women were very talkative. I was especially good here, and laid down on some laps, or next to people on the couches. I even let another woman hold me there. I'm not that big on being held, but I understood that these people needed it.
Although my human always brings one of our organization's Instamatic cameras, the residents used their phones to take photos. And of course when they pulled them out, I posed nicely for them! Just because I'm on the job as a therapy cat, I can still be a pro model too.
Other posts you'll enjoy:
* * *
---
---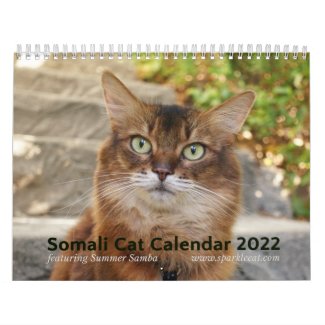 2022 Somali Cat Calendar Starring Summer Samba
See all of Summer's merch at her
her Zazzle Designercat Shop