The past couple of outdoor photo sessions produced a bumper crop of outtakes and photo flubs! I may need to do a part two. But for now you have these. Like the one above, where I was clearly dissatisfied with something, although now I don't remember what it was.
This sly wink almost wasn't a photo flub, but my other eye is just a tad too squinty. If it had been more open, my human would have called it a lucky shot.
There was nothing lucky about this shot, where both my eyes are screwed shut in a most unpleasant manner!
Here I am, frantically grasping at an elusive turkey tendon! I do go a little bit crazy over those things.
And it wouldn't be a set of outtakes if there wasn't one shot of me with my tongue out!
I hope you enjoyed these photo flubs today! Which one was your favorite — let me know in the comments!
* * *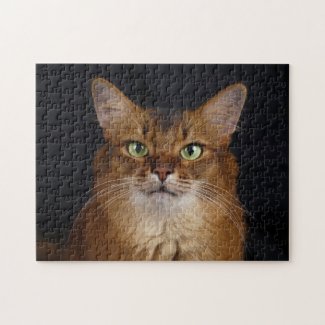 Somali Cat Photo Portrait Jigsaw Puzzle
See all of Summer's merch at her
her Zazzle Designercat Shop