Since Easter was Sunday, I had to wait until today to share outtakes, and they have really piled up! Let's start with this one. Not only am I sticking my tongue out and looking like I am about to trip off the brick ledge, my mostly-hidden tail makes me look like I have some fringe like a bad 2000s haircut.
Yes, that is a treat crumb on my nose. Not very dignified princess behavior.
Nor was this. Yes, I was washing my paw. Again. Maybe I had an itch.
What is with the things on my head these days? Sheesh!
Fortunately, this did not wind up being my Easter blog post.
Your eyes aren't fooling you — it does look like I am wearing that garden prop as a tiny hat.
And here I am, enjoying a well-deserved treat after my Easter photo session.
I hope you enjoyed these outtakes! Which one made you laugh the most? Let me know in the comments.
Other posts you'll enjoy:
* * *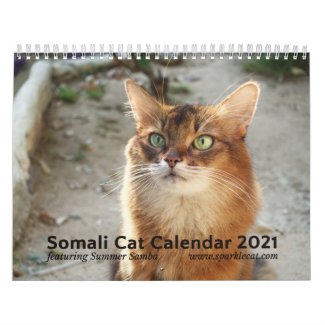 2021 Somali Cat Wall Calendar, Starring Summer
See all of Summer's merch at her
her Zazzle Designercat Shop