The title to this blog post is a little bit of a lie because some of these outtakes are not so fresh! Like the photo above. Several outtakes from this session have already been used — but somehow this one got neglected.
At some point during my Fourth of July photo session, I kept making this face. I don't remember what I found so annoying, but it took some treats for my ears to go back to their regular position.
I look pretty concerned about Dr. Bones in this photo. You've got admit, he's looking pretty wan.
This is actually a frame capture from my Cat World Domination Day prep video. My human was saving a few when she came across this one. She thought it looked hilarious, so she saved it too. I sure did like that tuna salad!
And finally, here's a classic: me losing my sunglasses during a photo session! I can't even count how many times this has happened. Well, I can't count anyway.
I hope you enjoyed these outtakes. If you have a favorite, let me know in the comments below!
* * *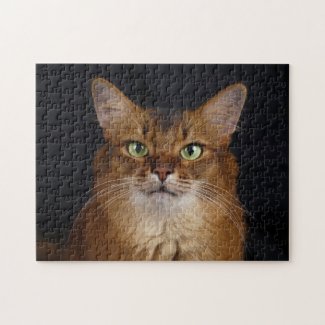 Somali Cat Photo Portrait Jigsaw Puzzle
See all of Summer's merch at her
her Zazzle Designercat Shop