A while back, I featured an old-ish blog post of me and my airplane on Facebook, and my Facebook fans said they wanted more! So here you go… I am ready for takeoff!
As you can see, this isn't just any old plane. It is a fighter plane! I hope I don't run into any danger while I'm in the air!
Here I am way up in the sky, flying with the clouds! Oh come on, use your imagination.
Uh-oh, the enemy is on my tail. I'd better bail out!
Wait a minute — where's my parachute? It's a good thing we cats land on our feet.
* * *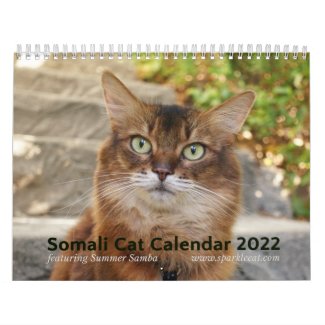 2022 Somali Cat Calendar Starring Summer Samba
See all of Summer's merch at her
her Zazzle Designercat Shop