This is me at 7 months old. I can't believe I ever looked that little! It was October 2014, and it was the first time I got to experience a really super awesome box! It was actually the box that Sparkle's Petties award came in.
Do I look a little hesitant as I peer into the box? 'Cause I actually wasn't! Just wait til you see how I dove in.
I have no idea where I learned how to do that! And now I can't remember the method.
Anyhow, I had lots of fun playing in this box, and for some reason Binga and Boodie weren't around to horn in.
I don't remember how long my human kept this box sitting around the living room, but I'm sure it wasn't anywhere near long enough!
* * *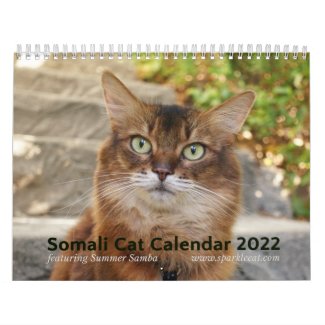 2022 Somali Cat Calendar Starring Summer Samba
See all of Summer's merch at her
her Zazzle Designercat Shop