I had a handful of half-finished posts, but nothing finished for today so I thought it would be fun to do a random Flashback Friday post. So I went to my Photo Library, which is arranged by month and year, shut my eyes and just randomly picked a folder. It turned out to be May, 2007. So I eagerly opened up the folder to see what I was doing…
My human made an unfortunate purchase, and here I am, checking it out.
I had to go to the vet.
Worst of all, my human was hanging out with some artsy friend of hers, who gave her a hat… for me to wear!
The only good part of the month was that Binga had to wear the hat too.
I could have really done without reliving that month! If you want to see all of it, feel free to read my vintage post. As for me, I am not gonna look.
* * *
---
---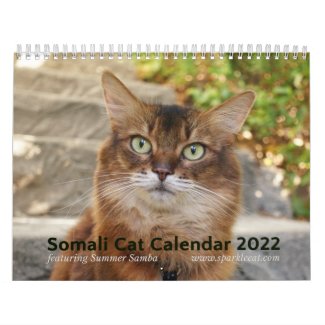 2022 Somali Cat Calendar Starring Summer Samba
See all of Summer's merch at her
her Zazzle Designercat Shop