My human found a castoff Fitbit fitness tracker in her desk drawer and decided to have me wear it for 24 hours. She thought you'd like to see how active I am in a day. She also wanted to see how much I really slept! So she charged it up.
There was only one problem — the part that attached to the strap was broken off. Which is why it is a castoff.
She wound up putting it in a little plastic bag attached to a collar. So unfortunately, we couldn't get my heart rate, but we could still get steps and sleep.
She also set up an account for me so that she could log onto the app and take screen shots of my progress for you!
My human put the Fitbit on me right before bedtime. So the first thing she recorded was how much I slept during the night.
My human and I went to bed and woke up at almost the same time… but I got a half hour more sleep than her! That's because I am a lot less restless.
I only really woke up once during the night. That's what that pink bar is. And I remember it exactly — it was when my human got up to use the bathroom. I was sleeping next to her at the time, so of course it woke me up.
After we got up, we went upstairs to my human's home office. She worked, and I took a nap by the floor heater. She doesn't like me sleeping near the floor heater — she says it's bad for my coat. But she cant' stop me either.
As you can see, I got in another hour of sleep.
When I got up, I went over to my scratcher lounge in the living room and checked out the back patio for a while.
And then I settled down for another nap.
And I got another hour of sleep!
My human decided I needed to get some exercise in (since I was wearing a fitness tracker, after all). So we played for a while in the turret.
As you can see, my exercise got recorded on the Fitbit.
I did take off the Fitbit once, for a photo session for yesterday's blog post. But I wore it the rest of the day, for a full 24 hours.
Here are my results. Yes, I did another thousand steps after my play session! And I went up the stairs a total of three times. The calorie count isn't accurate — my human put in human measurements in my account. (According to her, if I were human I'd be 5'4″ and 120 pounds.) What surprised my human the most was that I did not sleep as much as she expected — way fewer than the 16 hours everyone always says cats sleep every day. In case you are wondering, my human did over 13 thousand steps and went up the stairs 27 times.
I'm glad I don't need to wear that tracker every day! And from now on, I am going to try to get more sleep.
Did my results surprise you? Let me know in the comments.
Other posts you'll enjoy:
* * *
---
---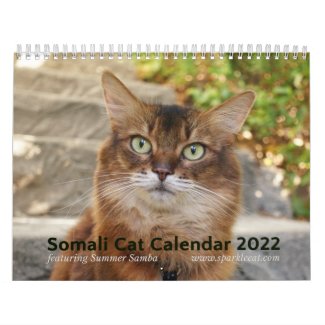 2022 Somali Cat Calendar Starring Summer Samba
See all of Summer's merch at her
her Zazzle Designercat Shop