Look what arrived over the weekend! My human ordered it for me at the beginning of February. She thought that would be enough time for it to get here before my birthday. Well, it wasn't — shipping took forever! I was 3 for two weeks by the time it showed up.
But it was worth the wait because this cat bed is amazing! It's fit for a queen… or, I guess, a CEO, since that's what it says.
Yes, it really is as comfy as it looks!
There's even a luxurious velvet blanket to go with it! I think I will test it out now by having a good, long nap.
Oh well, there goes that nap. I don't even know where she came from. It's like she materialized or something.
Although you know what? I guess this cat bed is big enough for both of us!
* * *
---
---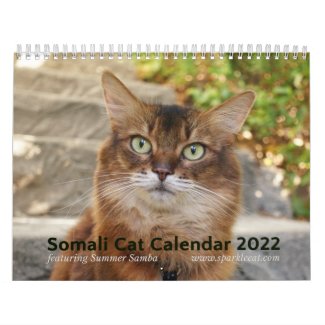 2022 Somali Cat Calendar Starring Summer Samba
See all of Summer's merch at her
her Zazzle Designercat Shop