You've already seen me in a variety of crazy outfits… but the costume season is just getting underway. I have a special challenge regarding this rather, um, fishy getup.
See the long-suffering kitty on the packaging? He clearly is not happy to be wearing this! So we are going to see if I wear it better.
A couple of shots in, and I think I've already got him beat!
Here's my over-the-shoulder look.
Here's my cute and winsome look. I think this one is my favorite. Now I will try the cat's long-suffering look.
Nope, can't do it. Really, I don't mind wearing this thing.
I can even ring my bell while I'm wearing it. I bet that cat on the packaging can't do that!
* * *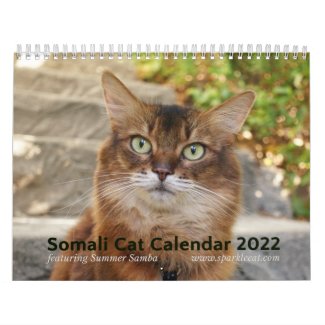 2022 Somali Cat Calendar Starring Summer Samba
See all of Summer's merch at her
her Zazzle Designercat Shop