I know you all have been waiting to hear how my very first therapy cat visits went, and I can finally tell you! I can say right away, it was a little bit exhausting. My human and I went on both Friday and Sunday (we are supposed to do three visits a month and in June, we have to work around both a cat show and BlogPaws). When we got back on Sunday, my human was too tired to even pick up the phone and I napped a lot of the afternoon! But we took it easy and were back to normal the next day!
The very first day involved a lot of preparation. For the first few visits, my human and I get a coach, and the one on Friday brought me an official vest. It turned out that their extra small fit me perfectly. My human had to get a badge for the hospital and I did too! We both had to pose for photos for our badges. I posed really nicely for mine. I have to complain, though — my human's badge has an electronic stripe to get us in and out of buildings… but mine doesn't! Somehow I don't think that is fair.
This is the place we are approved to visit right now. My human parked and took this photo before we went into the parking lot on Sunday.
Once we got our badges and learned where to sign in that first day, the coaches took me and the other therapy pet — a Great Dane! — around to different parts of the hospital to visit. The Great Dane seemed nice enough. Her human said that she is actually afraid of cats. I guess she is ruled by the cat she lives with. We went on a bunch of different floors and visited with lots of staff, including the human who poked my human for her TB skin testing. For some reason a lot of them were fascinated by me! You'd think they'd never seen a cat in a hospital before. We only got to visit with a couple of patients. I can't show you photos of me with the patients because of privacy rules, of course, but I can tell you they were really excited to see me! The lady couldn't speak hardly any English, but she smiled lots, and the man loved petting me. I ate treats out of his hand and he was amazed at how rough my tongue was. Can you believe he had never been licked by a kitty before? (In case you are wondering, the patients get their hands cleaned with wipes before and after the visit.)
I was a little bit nervous the first time, and wasn't sure what was expected of me, but I was more sure of myself on Sunday. My human tested me periodically throughout the visits by having me do tricks for treats. As long I would do the tricks, or if I was distracted, at least eat the treat, she knew I was okay. In fact, during my second visit, one of the hospital's staff members did high fives with me, and my human took photos using the lady's own camera phone. Most of the patients on the floors we visited Sunday were sleeping, but I got to visit with some of the patients' families and do tricks and take photos with them. On this trip, there were two dogs visiting with us, a Corgi and a black Labrador. They seemed nice too. I never get too near the other therapy pets because we are all instructed to stay 6 feet away from each other. But the dogs really did not bother me at all. Sometimes I walked on my leash just like they did, or if I was in an elevator or not going where I was supposed to go, my human would carry me or put me in my sling.
When we finished up, we stopped back at the lobby for a few minutes and I decided I wanted some belly rubs for a job well done! And some treats too. I think I will like being a therapy cat lots.
* * *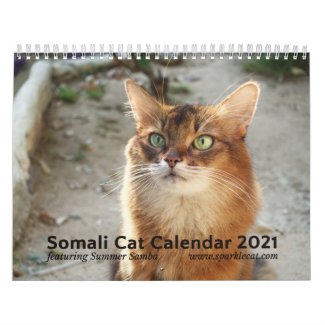 2021 Somali Cat Wall Calendar, Starring Summer
See all of Summer's merch at her
her Zazzle Designercat Shop