I'm finally back doing my therapy cat visits! It's been quiet here since Christmas Eve, as far as my therapy work. My visit yesterday was at one of my regular hospitals. The dog team we visited with was fairly new to our organization. But that didn't mean that Maggie and her human were inexperienced — quite the opposite! They belong to several different groups so they can go to lots of different facilities all over the U.S. And Maggie's human is a dog trainer. Maggie has an Instagram, as does her human — you should follow them!
Anyhow, we got working right away, visiting the Cancer Center. The Cancer Center has a big waiting room, and Maggie and I visited the patients who were waiting for their appointments. There was one lady who we were both drawn to, which is funny because I don't think she was even a patient! She was there for someone else.
Something really unusual happened when we went up to the children's section: there weren't any young patients! That's happened before, but it's very rare. So we went to visit the Residents Workroom, which is on the same floor. They were delighted to see us! Maggie did a bunch of tricks for the residents — she's really awesome (and if you looked at her Instagram, you'll see she is cute too). Of course after that, I had to do tricks too, so I did some High Fives and hand shakes. We had a lot of fun.
Next up, we visited the Rainbow Room, the kids' waiting room I always go to at this hospital on Thursdays. It took a few minutes, but a bunch of kids started showing up for their appointments. Maggie and I kept our humans busy taking photos of us with the kids. I was really happy to visit with the children. I even let a couple of little girls play with my ears. Sometimes I flick my ears when they're touched, but I wasn't bothered today. I was just happy to be of service to the kids.
Our final stop was at East Rehab to see a couple of patients. One guy, who was bedridden, was so happy to see us! It was obvious that he was a total animal lover. This is when our work is important. When a patient loves animals, our visits really help send healing energy to them. Funny enough, he had a photo of a dog who had visited before… and it was my Saint Bernard pal, Clementine! I'm so glad she got to visit with this man.
It looks like my therapy cat visits for 2018 have gotten off to a good start!
* * *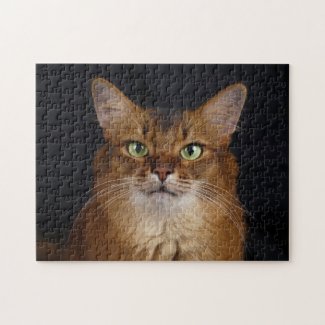 Somali Cat Photo Portrait Jigsaw Puzzle
See all of Summer's merch at her
her Zazzle Designercat Shop