I got to go on my first pet shop visit of 2020! It was a quick one, just to the indie store down the street to get some cat food. We were almost out. Can you guess what I did first?
That's right — I stopped by the cat toy section!
Can you believe my human still didn't get me any? Even after I gave her my cutest face. In fact, I think you've seen this face before.
Apparently, I'm also not allowed to climb on the ladder.
All too soon, it was time for us to check out and go home.
I did get a special treat on the way home. Since we only live about four blocks from the pet shop and it's all residential streets, my human said I didn't have to go back in my carrier! So I got to walk around and look out the window for the three minute drive. My human even paused in front of the garage so I could watch her use the garage door opener.
* * *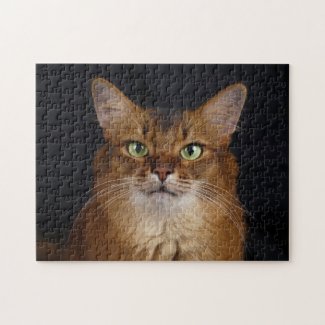 Somali Cat Photo Portrait Jigsaw Puzzle
See all of Summer's merch at her
her Zazzle Designercat Shop