This campaign for Cat Ruler of the World has been intense! I've been up against five very worthy catidates, and I have to say, we each did a great job of promoting the rescues and sanctuaries we have been supporting! Each rescue deserves to win the big prize package, honestly. But I hope that if you are still undecided that you give your vote to me and Tabby's Place.
Here is why I support Tabby's Place and you should too:
There are only a very small handful of cat sanctuaries that have the ability to offer intensive care to a kitty like Dot. Her spina bifida gives her many challenges beyond the obvious and she requires daily medical support from caring volunteers. But if you've seen her in action, you know that every moment and every dollar sent her way is so very worthwhile; few creatures are more inspiring than than this spirited little girl. This cart will help her get around without having to drag her back end behind her and give her a little more mobility than she had before — at least during the times she is not climbing to the top of a 7-foot cat tower! The money and goods donated to Tabby's Place make a miracle like Dot possible.
Because in the long run, none of us catidates are in this for the glory. We're in it to help other kitties. Other than a glamorous title, there aren't a whole lot of benefits for any of us other than the knowledge that we have helped raised awareness for cats in need. My human, in fact, had to take time away from an important book proposal to be my campaign manager. But she loves Tabby's Place too, so she was happy to devote her energy and limited Photoshop skills to the cause.
So I am asking you this last time: you only have one vote, so please give it to Tabby's Place — and me! Polls are open until Midnight Pacific Time today. It will only take you five seconds — go to this link, click on the red "CLICK HERE TO VOTE" and pick Sparkle, then you are done!
* * *
---
---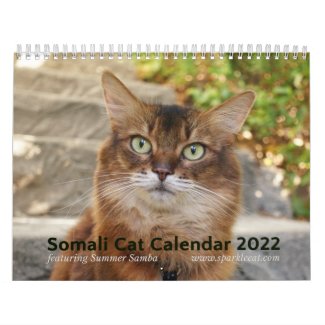 2022 Somali Cat Calendar Starring Summer Samba
See all of Summer's merch at her
her Zazzle Designercat Shop