When I'm doing a festive photo session, there are bound to be flubs! And I had quite a few from this week's holiday shoots. So here you go!
I have to say, although this outfit looked great when everything was just right, it was kind of hard getting the just right part.
Also, when I get bored, I have a habit of just walking off the set without asking first.
This one's a high five gone wrong.
And this one's a failed bye-bye wave. Here's something I bet you didn't know: it's really hard to wave bye-bye and look at the camera at the same time! At least it is for me.
And I'll close with this supremely awkward looking photo! That's it for this month's flubs! Let me know if you have a favorite in the comments below.
Other posts you'll enjoy:
* * *
---
---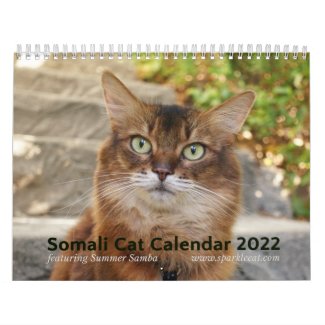 2022 Somali Cat Calendar Starring Summer Samba
See all of Summer's merch at her
her Zazzle Designercat Shop