Since we are (already!) closing in on the end of November, I was wondering what I was doing around this time last year. I was pretty busy, it turns out, and there were quite a few outtakes to be had. The above photo wasn't one of them, of course. But everything else you see here is something that probably shouldn't have seen the light of day.
Outtakes that include my human's hand in them are getting to be classics! Here's one of them. Even though it would have been easy to crop out the hand, who needs a photo of me looking off camera with my treat face?
Ugh, I remember that hat! My human and I tried it several different ways on my head. I'm not 100% positive, but I think we may have wound up keeping the scarf and ditching the hat altogether.
This was a rather random shot. I did like that chalet scratcher though. It's one of those Target limited editions. Sadly we are not getting any of the new editions anymore because my human says there are already too many here. And unlike other cats I've heard about, nobody here destroys them (nope, even Binga didn't!).
You might say this photo is my commentary on all the previous pictures.
And once again, we've reached the end of these festive flashback outtakes! I hope you enjoyed them!
* * *
---
---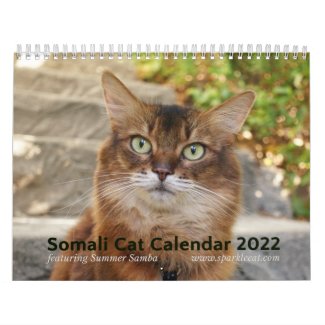 2022 Somali Cat Calendar Starring Summer Samba
See all of Summer's merch at her
her Zazzle Designercat Shop