My modeling over the past couple of weeks has produced an exceptional number of bad photos. Yes, some really are feline fashion faux pas! Like the ribbon bow above. It was originally part of wrapping for a box. It might even have looked nice on me, if someone competent knew how to tie it in a flattering way. Sadly, there was no one like that present at the photo shoot.
You've seen this beret on me before, when it was jauntily placed on my head. I don't know how my human made it look like a pink leopard chef's hat. All I know is that it is not supposed to look like that!
If you had any doubt about what I thought of this ugly Christmas sweater, now you know.
I don't know why I look so mad in this photo. This particular Santa hat is the most comfortable out of all of the ones I have.
Same thing with my sparkly pink sweater. My facial expression really doesn't match how I feel about it!
I hope you enjoyed these! If you have a favorite, let me know in the comments.
Other posts you'll enjoy:
* * *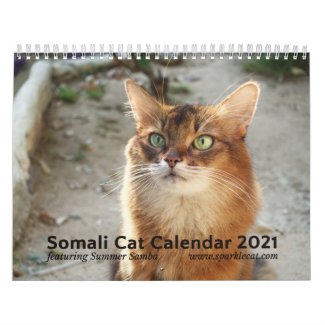 2021 Somali Cat Wall Calendar, Starring Summer
See all of Summer's merch at her
her Zazzle Designercat Shop