So here I am at the Pet Expo, with all this cool stuff going on, and my human tells me that I can do my selfie right now. When I am just sitting here, wearing a plastic necklace she picked up from the World's Best Cat Litter booth. Why not a selfie with my new pal, Moshow? No wonder I look a bit dour.
But I was a good sport about it. I just asked for the iPhone and got busy.
Oops, I got distracted! I need to put my attention back on the iPhone. This calls for a redo.
Nailed it! See, I can be a pro, even when I disagree with my human's ideas.
* * *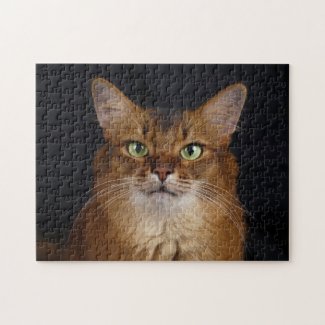 Somali Cat Photo Portrait Jigsaw Puzzle
See all of Summer's merch at her
her Zazzle Designercat Shop