After such warm weather here in southern California, it is finally starting to cool off. And just in time, since I have some new feline fashion for the season. Not a lot, since I already have so much. Still, I can't believe my human left it in a pile like this while she got everything set up for the shoot.
Especially this cute plush gray jacket. When she saw the buttons, my human couldn't resist getting it for me, and it fits perfectly!
Here is the back view. There is even a slot for my leash, which is pretty cool! It's a nice city look, although I don't think I will be walking down the streets of downtown Los Angeles anytime soon.
I'm not so sure about this headband, however. My human picked it up the same day she got the jacket.
As you can see, it lights up. Someone here is a sucker for that type of thing.
Even though it doesn't look it in this photo, it actually fits. It's just kind of hard to keep on straight. It may not have a "straight" — all the angles made it look a little crooked.
See what I mean? Also, I don't think it goes with my jacket, do you? It is definitely not a good combo look.
* * *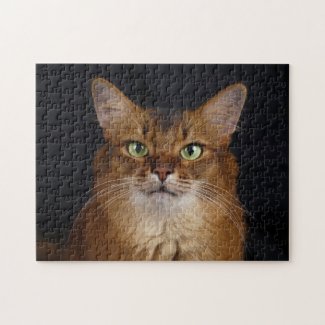 Somali Cat Photo Portrait Jigsaw Puzzle
See all of Summer's merch at her
her Zazzle Designercat Shop