Yes, I was back at the hospital already! I've been having so much fun going out that my human thought she would schedule more visits this week. She worries a lot about burning me out… but then I have such a good time, it's clear I want more.
Monday is not a usual day for us, and the parking lot was full, so we parked on the street. It was a nice day, and we did not have to walk very far at all. We passed this sign on the way to the hospital entrance, and it made my human feel a little bit more fit.
We were the only team for this visit, and my human decided to focus more on the wings with the adults, since the children saw us on Thursday. She wanted to make sure that people saw me who hadn't already… but the funny thing is that one of the first guys we saw remembered me from a month ago!
We stopped by the Cancer Center, since I didn't get a chance to visit on Thursday. I got to do something I don't think I've done before — visit with someone who was getting chemo! My human feels bad for people who have to go through that. She has had friends who've gotten chemo (and in fact, we have a friend right now going through it), and she has seen the toll it takes on them. So we were really glad to brighten this young woman's day. She loved me!
One of the bed-ridden patients we saw in the Skilled Nursing wing has a girlfriend who is also going through cancer treatments up in Portland, OR. He was down here dealing with something with his leg, but he normally lives up there, with his girlfriend and his Sphynx. He had lots of fun visiting with me, and talking about his cat, who sounds like a really awesome guy! His mother showed up partway through our visit, and she enjoyed meeting me too.
My final visit of the day was up at the behavioral medicine ward. That's a requirement for Monday visits, and we have to be there at a certain time. They set my human and me up in a workroom, and bring the patients out to see me. At first the employee who's in charge said there were going to be three people, but then two more wanted to see me too. They all had so much fun with me, and everybody wanted photos with me. Several of them had cats at home.
Nobody I saw today was in a great amount of pain, but they needed to see me as much as the people who need healing purrs to help them forget how badly their bodies hurt. Sometimes hearts need healing at least as much as bodies do. In fact, I think healing hearts also helps heal bodies. So I was really happy to be of service today.
In case you are wondering about how we therapy pets cope with our visits, the organization tells the humans to expect us to be tired afterwards. This isn't true of me a lot of the time. Like with this visit, a few minutes after we got home, I found my Neko Fly toy and dragged it over to my human so we could play! This particular visit really energized me!
* * *
---
---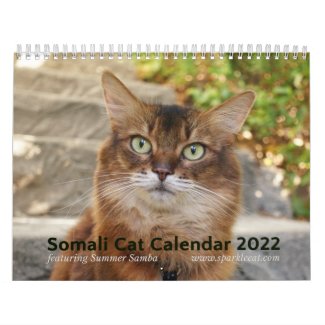 2022 Somali Cat Calendar Starring Summer Samba
See all of Summer's merch at her
her Zazzle Designercat Shop