Guests
So now I'm strong enough to hang out on the cat tree again. It's about time I took it over — the other cats have been hogging it while I've been indisposed.
Just when I was thinking that things were getting back to normal, my human decides to have guests over. She blamed it on her boyfriend, since he's the one who knows them, but it's still her fault because she agreed to it. I did not like these guests. They stayed in the upstairs apartment, which is my turf, that my human and I share on occasional afternoons when she's doing what she calls her "research." Instead these people took it over! I had to sneak up there now and again to make sure they weren't messing things up too much.
A couple of them hung out on the back patio, puffing on these things and blowing smoke. I'd never seen anything like it! Boodie was fascinated.
The week these people were around, the humans had Valentine's Day. My human got her boyfriend really lame gifts this year — Valentine's boxers and some weird, red cube that lit up and flashed. I hated them, but my human didn't care. "They're not for you," she said.
As usual, her boyfriend got her flowers and a bear.
I loved the roses. My human thought I loved them a little too much.
The last day the guests were here, the humans had a barbecue. As usual, I hid. I had been hiding most of the week, unlike Binga who spent the whole time making friends with them (that's why you don't see her in any photos this month — she was too busy being social with the humans). Some of these guests had never seen me at all. I preferred it that way, but my human decided to drag me out. I felt like a celebrity being put on display (which is really what I was). I was not interested in socializing with these lower life forms.
The humans thought I was scared but I wasn't. I just wanted to hang out on my own terms. Without a bunch of gaping admirers.
Finally the guests left. The moment they were gone I insisted on going upstairs to make sure it was true.
Sure enough, all the bedding was folded, ready to be packed away. (Of course, my human never bothers packing away anything. I'm sure those things will be sitting around for a few weeks, at least.
I was relieved that the visit was over! I hope the humans don't have any more guests for a good, long time!
* * *
---
---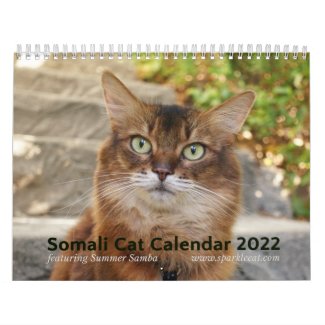 2022 Somali Cat Calendar Starring Summer Samba
See all of Summer's merch at her
her Zazzle Designercat Shop