Another Dumb Valentine's Day
You know what I really hate? When my human goes running around to "events" instead of staying home and playing with me. She and her boyfriend spent almost a whole week at some ridiculous workshop. Then a couple weeks later she spent three days at something called the Fit Expo. She thinks it's fun to go off to all these things. I think it's bogus.
The really annoying part is one day she came home with a backpack on wheels.
She said it makes running around and doing things a lot easier. Like I care.
The one cool thing about this backpack, though, is that it comes equipped with a cat toy!
At least I thought it was a cat toy. But when me and Binga tried to play with it, she told us we weren't allowed. That made no sense whatsoever.
Not that anything humans do makes any sense anyhow. Like the Valentine's Day thing. This is the third Valentine's Day I've experienced and I'm still don't think much of them, even though this one was a little better than the other two. My human was all delighted because she got her boyfriend a stupid little pop that lights up and an even stupider bubble pen.
I was so not impressed. Her boyfriend must really think she's an idiot.
Her boyfriend gave her a bunch of roses.
We liked the roses. Binga especially liked the cellophane they came in.
Then my human told her to stop chewing on it, which made her sulk.
The good part about this particular Valentine's Day is that for once my human included us cats in it. We got these really cool heart shaped salmon treats.
Unfortunately my human made me sit up and beg for them before she would let me have even one. That kind of spoiled it for me.
But she couldn't spoil the other cool gift, even if she did leave the cheap price tag on — a pair of Valentine catnip mice!
I had loads of fun chasing them all over her office and trying to catch them from behind the door.
Unfortunately, I lost them somewhere where I can't reach, so they are both gone now.
But that wasn't all — we got a fresh container of cat grass. Note the Styrofoam bowl — that's so my human can water it from below. She says it makes it last longer. Boodie was thrilled. Grass is one of her favorite things.
That night, my human's boyfriend made her a salmon dinner, with real salmon, not salmon treats. It smelled really good. But we didn't get any. The humans sat there and ate their whole dinner and didn't offer us one little bit. Their rudeness never ceases to amaze us!
* * *
---
---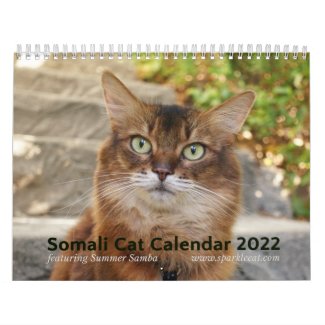 2022 Somali Cat Calendar Starring Summer Samba
See all of Summer's merch at her
her Zazzle Designercat Shop