We don't exactly know when Binga's birthday was, but she was 8 weeks old sometime in the last half of October, 2000. So she was born around this time in August, and she would have been 21 this year! So I'm sharing a few favorite photos of her today that I think show off her tortitude.
Binga was not fond of sharing this scratcher with the other cats. Well, sharing is not a tortie trait to begin with.
Here she is, looking cute… but with her whapping paw at the ready.
Binga had mixed feelings about clothes and costumes. She envied how much attention I got for wearing them… but I think she always wound up being a little sorry that she let my human put them on her.
And here she is in an ill-fitting devil headpiece… and not caring. I think this is the most Binga-ish photo out of everything my human has of her.
Did you enjoy my Binga photo picks? Which one do you think has the most tortitude? Let me know in the comments!
Other posts you'll enjoy:
* * *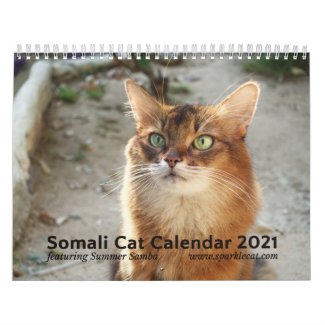 2021 Somali Cat Wall Calendar, Starring Summer
See all of Summer's merch at her
her Zazzle Designercat Shop