One of the reasons I was outside the other day was to try on some dresses for my trip to Houston on Thursday for the Cat Writers Conference and the cat show that will be in the same hotel. This dress is one I won't be bringing along. It's kind of blah, and the neckline is too low. My human likes low necklines on herself, but on me, they look awkward.
So you may wonder why I decided to take this week's selfie while I was wearing it. Basically, it was the last thing I wore that day, and I still hadn't done my selfie. So there you go. I just wanted to get it over with.
Well, that turned out completely off center!
This one's better… but now you can see why I think this dress is a fashion flop! That neckline is not flattering on me at all. Maybe this dress was made for a pug or something.
This is better — I cropped out most of the dress for more of a headshot. That way, you can't see much of it. These shots aren't as good as the portraits my human took of me yesterday, but for a selfie, this one is not bad.
* * *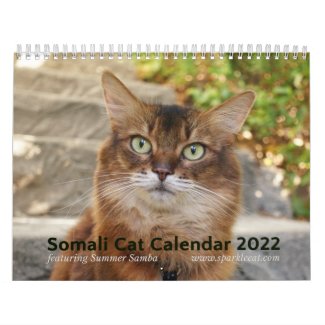 2022 Somali Cat Calendar Starring Summer Samba
See all of Summer's merch at her
her Zazzle Designercat Shop