Do you remember the photos of me posing with my ribbons and at the airport a few days ago? I was wearing a scarf but you didn't get a really good look at it in the pictures, so I thought I would model it for you today. It is really pretty, and it has a sweet pink flower on it. It's kitty fashion flair without being annoying or constraining to wear. Hey, that rhymes!
It fastens on with some velcro and you can wear it over a collar or a harness. It's soft, and I don't know about other cats, but I didn't even try to chew on the flower.
Here is a closer shot so you can see the scarf even better.
My human also took some outside photos of me with the scarf on. I think the humans who made the scarf should pay me to model for them, don't you?
And just for fun, here is a photo of me giving a high five.
* * *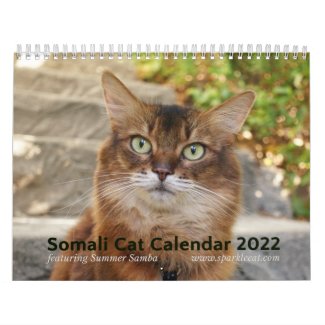 2022 Somali Cat Calendar Starring Summer Samba
See all of Summer's merch at her
her Zazzle Designercat Shop