I was really bummed I didn't get to go to the BlogPaws conference this year. But it was held in Myrtle Beach, which was too long and expensive of a trip for my human and me. The big Nose-to-Nose awards happened last night, so I decided that for this week's selfie, I'd pose in the fancy dress I wore for last year's award dinner in Phoenix. Isn't it cool? A good friend of ours, Stacy, made it!
Let me just get the iPhone set up…
Oops, I dropped the iPhone! Didn't I do something like that last time? It's a good thing that phone is in a heavy-duty case.
Ah! Much better. Maybe I can take a second photo, and try for a slightly better exposure.
I think they both worked out pretty well, don't you? The good news is that next year's BlogPaws conference location is Kansas City — and my human and I already got our tickets! Well, she got a ticket… I go for free. I guess that is because I'm a celebrity!
* * *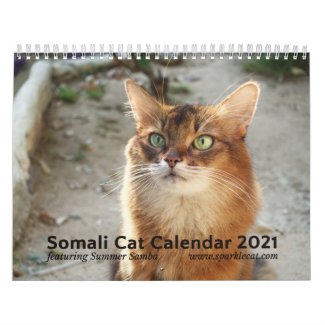 2021 Somali Cat Wall Calendar, Starring Summer
See all of Summer's merch at her
her Zazzle Designercat Shop