How fun — I got something in the mail! And it has to do with my upcoming assignment.
Most of you know about the latest Fancy Feast® commercial, right? The one where the guy proposes to his girlfriend by giving her a kitten… and building a whole cat room for her to enjoy! Well, they are filming a sequel, the wedding, and the Fancy Feast® humans offered to fly me out to Los Angeles to cover it on my blog! Well, of course there were a couple of things wrong with this scenario: 1) I already live in Los Angeles, and 2) I am an indoor-only kitty and the shoot takes place outside! But we worked it out: I am sending my assistant (aka my human) to the ad shoot so that she can take notes, snap photos and bring it all home for me to pour through for the blog. And since they did not have to fly my human out here and put her up in a hotel, I suggested they could come and pick her up — they said yes!
The shoot happens on Monday the 27th, and I will be in constant touch with my human that day so I can tell you any pertinent details about the Fancy Feast® cats on my Twitter account. But I want you guys to do me a favor: occasionally go over the Fancy Feast® Twitter page to make sure that my human is not doing anything embarrassing at the shoot. I'm pretty sure she will behave herself. She has been on film shoots before. But if she does something dumb like trip on a cable or step in front of the camera, I want to know about it right away!
Anyway, onto the box. The Fancy Feast® people sent me a thank you gift for covering this ad shoot. It looked really, really nice!
I especially liked the tasty ribbon!
Eventually we opened the package — and it was a customized Flip video camera with the Fancy Feast® cat on it!
They also enclosed some coupons for free Fancy Feast® food. This was all very nice of them! But you know who got the best part:
My human charged up the camera and shot some video of me and Binga. It's not very exciting — we were kind of hot and cranky today (well, I was cranky), but it is the first video to come out of the Flip:
If you can't see the above video, click here to watch it on YouTube.
I am pretty sure you won't be seeing this footage in the new Fancy Feast® commercial!
* * *
---
---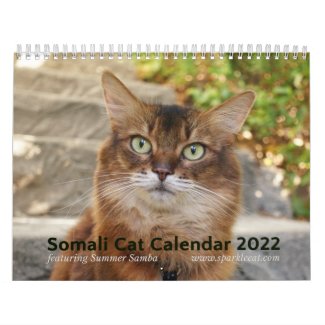 2022 Somali Cat Calendar Starring Summer Samba
See all of Summer's merch at her
her Zazzle Designercat Shop