After my fall photo shoot, my human took off my sweater so I could spend some time outside, just hanging out and doing kitty things. That is, if you are a kitty who is leash trained.
I spent some time on the concrete table, and then the bench, just enjoying the view.
But eventually I wanted to go for a walk. Even though my human still had the camera, she didn't have any agenda (which she usually does). So she let me go where ever I wanted to.
This time, I wanted to go around the side of the house by the kitchen. Usually when I'm over here, I'm coming from the backyard.
Instead of going up around the back, I came back and paused right by the garage door. I was looking at a guy walking his two dogs. He was friendly and the dogs were well behaved, but my human picked me up anyway, just to be safe.
Before going in, I wanted to sit on the concrete table again for a few moments. Since there was nice light coming in through the trees, my human took advantage.
Other posts you'll enjoy:
* * *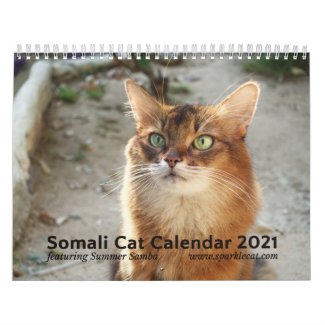 2021 Somali Cat Wall Calendar, Starring Summer
See all of Summer's merch at her
her Zazzle Designercat Shop