It was a nice fall day, so my human and I went out back for a while. In fact, I did a 9-minute long Facebook Live video! (If you want to see some of it, the link's here.) While I was out, I decided it would be a good time to take some selfies.
Let's see, I don't think I need to make any adjustments. The lighting seems to be just fine.
Wait a minute, I thought I heard something! Maybe it was a birdie!
Wow, I am really batting 1000 with these selfies! I don't know what's up with me today. I will just have to give it one more try.
That's way better! I was beginning to get worried.
* * *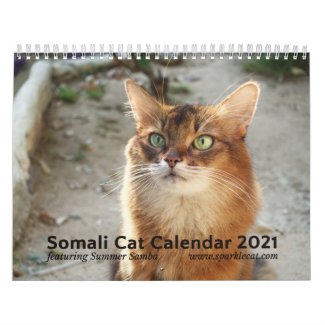 2021 Somali Cat Wall Calendar, Starring Summer
See all of Summer's merch at her
her Zazzle Designercat Shop