My human was determined to find a hat that would fit me, so she came home with this just a couple of days before Fourth of July. It was originally a hair clip, but she modified it.
Boodie didn't have to wear it. She was just my stand-in. A good thing for her — if she'd been expected to pose for real, she might have gotten a bath!
My human wanted to create a backdrop with lots of stars and red, white and blue but she was having a hard enough time keeping the hat on me.
And then this happened. You might have guessed already, but that is not Boodie's tail.
I swear, she can smell treats from the other end of the house.
I don't think this is the last I've seen of her.
Hm. I think I've got an idea.
If she wants to be in the photo, she can wear the hat!
If you are wondering where Boodie was this whole time, she was next to the set. I think she was laughing at us.
* * *
---
---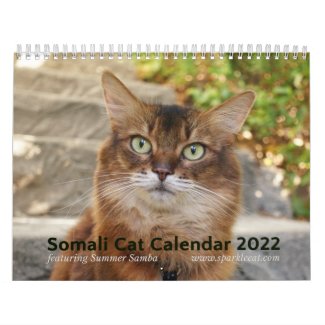 2022 Somali Cat Calendar Starring Summer Samba
See all of Summer's merch at her
her Zazzle Designercat Shop