Imagine a cheese cracker… completely made of cheese! That's what these are, and my human loves them. She saw them at Whole Foods the other day, after not seeing them there for a long time. They were not cheap, but she thought she deserved a treat.
So why are they sitting on the kitchen floor next to the trash can?
Binga might be pretending she knows nothing about this sorry state of affairs, but she is definitely the one who jumped on the counter and stole the almost totally full container of cheese crisps and spread them all over the kitchen!
There were crisps by the kitchen sink.
There were crisps peeking out from near the refrigerator. My human had to throw out the whole container because she figured Binga had probably licked them all. And she had only eaten one before they were stolen! And it was the broken end crisp at that.
Do you think Binga was sorry?
Of course not.
* * *
---
---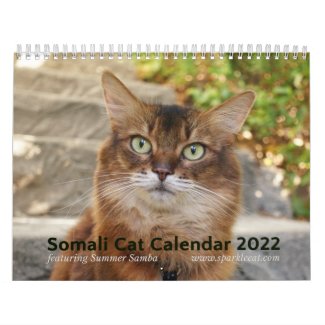 2022 Somali Cat Calendar Starring Summer Samba
See all of Summer's merch at her
her Zazzle Designercat Shop