I started working the children's hospital even before my human signed us in. She placed me on the front desk and the security staff was so happy to see me and pet me. Once they were done, it was time for me to see who was in the lobby area.
There were several kids in the lobby to visit. I think one mom who called us over was more interested in petting me than her son, who was focused on a computer game. He did give me some pets though. Next there was a family, and the dad told us his daughter loved kitties. And the way her face lit up when she saw me, that was pretty obvious! A girl in a wheelchair was also excited to see me.
We visited a bunch of exam rooms. It seemed like everybody we saw today were cat lovers, even the doctors! So it was an especially fun day.
We also visited the surgery center. There were no patients when we stopped by, but the nurses were thrilled I was there for them. One took some selfies with me. I want to mention, visiting with the staff is equally as important as visiting with the patients. They have a hard job and they need a break for fun and stress relief.
Of course, the patients are very important too. One of the people who saw my TikTok video about my visit said that she had been going to this group of hospitals since she was a preschooler, and it was always very stressful. Doing things like X-rays and getting measured for braces took a long time, and it's very hard on a child. I'm so glad this hospital understands that and tries to make things better for their young patients. And I'm so happy to be part of that.
Other posts you'll enjoy:
* * *
---
---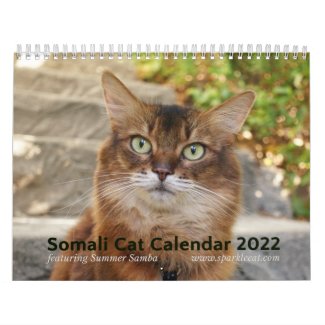 2022 Somali Cat Calendar Starring Summer Samba
See all of Summer's merch at her
her Zazzle Designercat Shop