We've been having a typically beautiful California spring this past week! When the weather's like this, it's perfect for me to go out. So that's what I did.
I could tell the birdies were enjoying the spring weather too.
The past few times I've been out, I've had lots more to smell! My human wonders if I am smelling the bear that has been seen in my neighborhood, or if it's just the bad orange cat who sneaks around the house.
If you think I'm looking at birdies in this photo, you would be wrong! My human couldn't figure out what I was staring at for a few minutes. She was worried it was some sort of critter. It was actually the neighbors! One of them opened their door while I was out. Usually I don't see them.
Behind me, you can see the side of the house. Yes, that is where the bear was walking in the video from a few weeks ago.
While I was up on the ledge, I did some model poses.
I had a nice time outside! I hope you had a nice time here too.
Other posts you'll enjoy:
* * *
---
---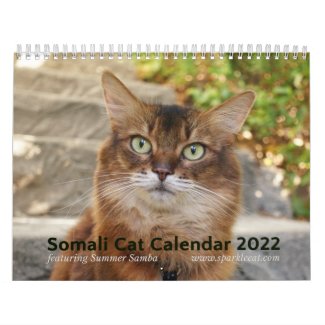 2022 Somali Cat Calendar Starring Summer Samba
See all of Summer's merch at her
her Zazzle Designercat Shop