My human and I went to the nearby nursing home for our end-of-the-month therapy cat visit. We hadn't been there in a while because other volunteers kept snagging the visit slots before we got a chance to. There are two different buildings we go to, across the street from each other.
I didn't recognize any of the residents in the first building, but a couple of the women I saw really loved me and petted me a lot. A man there said I was the most beautiful cat he'd ever seen. In fact, he said that a whole bunch of times. Did I mention that these buildings house people with Alzheimer's and dementia? But that's okay — I love hearing how beautiful I am and getting appreciated so much! We also saw something a little bit different — there was a Spanish speaking couple who were both living at the facility. He liked me a lot. Sadly, she was barely aware of me at all.
We went over to the second building for the other half of my visit. There were a couple of people I remembered from last time. One was the lady who wore a lot of make-up, and the other was a man in a wheelchair, who wanted to know if my human was related to the 1960s singer Melanie. I also got to meet some nice people who were new to me. One was a man wearing a cap that said The Rifleman on it (that was an old TV show from the 1950s), and a robin's egg blue satin jacket that said "Celebrity" on it. I don't think he was actually a celebrity, though! Although maybe he could have been. There was another guy who talked about the Great Pyrenees he had. Lots of people remembered their cats and dogs when they visited with me.
Now I have to tell you the embarrassing part! I was visiting with a lady in a wheelchair when one of the facility's aides put on some upbeat music, and she and another aide started leading an exercise class! With dance moves and everything, kind of like the videos my human does at home, only simpler and without all the jumping. And can you believe it, my human started doing the moves too! Like, she couldn't help herself. I was turning red under my fur. The lady in the wheelchair was moving her arms around. "That's all I can do since I can't move my feet," she said. "You do what you can!" said my human. They were having a great time. Me? Um, not so much.
Shortly afterwards, we finished our visit. And can you guess what my human did when we got home? Yep, she changed into her workout clothes and did an exercise video.
* * *
---
---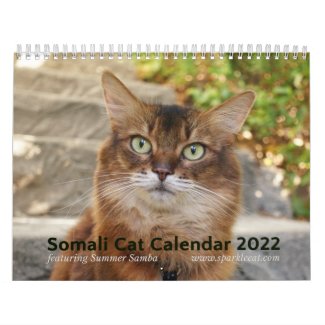 2022 Somali Cat Calendar Starring Summer Samba
See all of Summer's merch at her
her Zazzle Designercat Shop