On the last day of the BlogPaws conference, my human and I got up early to make the last rounds of the exhibitors. We stopped by the Halo Pets booth for this photo op of me surrounded by their cat food and treats.
I may have gotten a bribe to pose… but really, it was my pleasure!
I had lots of fun sampling many products. But for some reason, I was not allowed to try out the pan of World's Best Cat Litter. At least not the one on the table. We actually are using it back in the hotel room.
Right after visiting the exhibitors, my human and I did a podcast about my therapy cat work for Humarian. My human didn't take any photos because she was too busy talking. Can you believe I was not asked for my input?
In the evening, BlogPaws held the Nose-to-Nose awards, and everybody got dressed up. Some more than others. Like Coco the Couture Cat. Not only was she wearing a handmade dress with a train, her Catillac had its own chandelier!
I wore my black and white dress. A lot of you seemed to prefer it when I asked the other day. Then, at the last minute, some of you really pulled for the green outfit. My human was going to pack both, but in her rush, she forgot the green outfit. At least this dress has a matching necklace. The Dashkitten human made it for my human a couple of years ago, but I got to borrow it for the evening.
Then something happened! The thing that all celebrities dread, and which I guess happens to all of us at least once in our lives on the red carpet.
Somebody else was wearing the same dress as me! It was Jada of the Chestnut Mutts. I wonder if she was as embarrassed as I was when she saw me. I guess I have to give her a pass, though. Her human does therapy pet work… with rats! Any family that does therapy work gets some leeway with me.
I guess if this was the worst thing to happen to me at BlogPaws, it was a pretty great conference!
* * *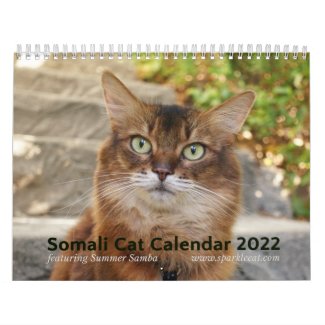 2022 Somali Cat Calendar Starring Summer Samba
See all of Summer's merch at her
her Zazzle Designercat Shop