I thought it would be fun to do selfies this week in my Egyptian cat goddess outfit. I'm sure the ancient Egyptian cats would have wanted to do the same thing.
I just need my human's iPhone. I bet if they'd had iPhones back in the ancient Egyptian days, the cats would have had their own, and not had to borrow their humans'.
Oops! I took a photo while I was trying to adjust the camera. I hate when I do that.
Meh. This one isn't very regal. I look like I pushed the button too soon. I'm going to try to get a better one.
This one is much more regal! I look like I'm ready to address my subjects.
* * *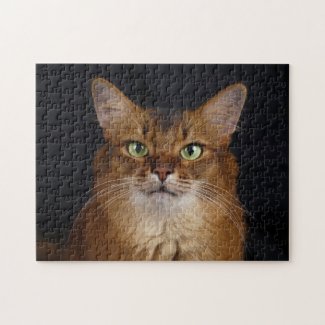 Somali Cat Photo Portrait Jigsaw Puzzle
See all of Summer's merch at her
her Zazzle Designercat Shop