I have some outtakes for you this Easter weekend! I am starting off with a classic.
Don't ask me what I was looking at here, because I don't remember.
Here is Binga, acting as my stand in for the Easter photo shoot the other day. Actually, this was unintentional — she just happened to show up while my human was setting up the lights. She is really a bad stand in. Not for the reasons you might suspect. Her fur is so dark that it's hard to set a proper exposure.
The ears on that bunny costume really did not want to behave!
Even the ears on the better costume had a mind of their own.
I look like my human just tossed me over the tote bag here! Don't worry, that's not how it went.
And that's it for this week's outtakes. I'm outta here!
* * *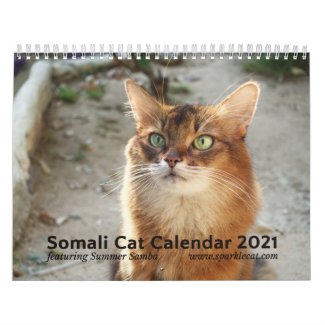 2021 Somali Cat Wall Calendar, Starring Summer
See all of Summer's merch at her
her Zazzle Designercat Shop