Every year, my human promises that she has something "really fun" planned for Easter. And every time, it turns out to be a bald-faced lie. This year may be the worst. She presented me with what she claimed to be a great Easter toy — "sort of like Da Bird." I had my doubts.
But I was still a good kitty — I hung around while my human took it out of the packaging, even though I had much better things to do.
Clearly, there are times when being a good kitty does not pay off.
Then she proceeded to annoy me even more by insisting that I pose in the basket and be "Easter Kitty."
I complied eventually, but only under duress.
* * *
---
---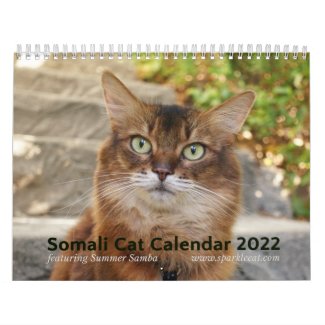 2022 Somali Cat Calendar Starring Summer Samba
See all of Summer's merch at her
her Zazzle Designercat Shop