My human was doing something special for Thanksgiving! She said that a turkey would be too big for just two people, so she wanted something smaller. But it was just (if not more) fascinating!
She prepared a duck!
So of course, I had to put on my best duck face! But I was very good. I didn't jump on the counter. Probably because my human did not leave the duck unattended. Not even for a split second.
It took three hours for it to cook in the oven! My human says turkeys take way longer, so I am lucky. I patiently (okay, not really patiently) waited in the dining room.
Finally, the duck was done cooking. It does look pretty impressive, doesn't it?
As soon as the duck came out of the oven, I was right there, waiting for my share!
But then I was told it had to rest for 15 minutes! It's just been lying there since it's gotten here! That was totally unsatisfactory.
Finally, finally I got my tastes of duck!
The best part is I get to do it all over again, because we actually aren't having Thanksgiving dinner until Friday because our company was working today.
Other posts you'll enjoy:
* * *
---
---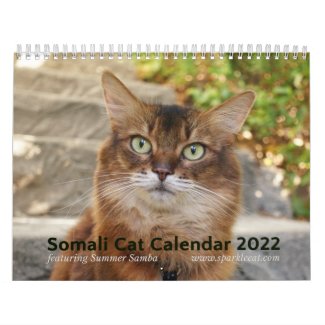 2022 Somali Cat Calendar Starring Summer Samba
See all of Summer's merch at her
her Zazzle Designercat Shop