I had a therapy cat visit at the assisted living facilities with the dementia patients. It's always a little different every time I go there. This time, a resident was in the lobby, and she was excited to see me. She is a cat lover, and while she was petting me, she told my human that her brother had just died.
After they took my human's temperature, we went to the big room with the TV. It is a good thing I am a pretty calm kitty because someone was screaming almost the whole time I was visiting. The people who wanted to see me were very nice, though. A couple of them were my human's age. In fact, one might have been younger. He wanted photos of himself with me to give to his girlfriend.
The other guy, who was in a wheelchair, actually told my human why he was there. He had been in a coma, and no one expected him to live. But he came out of it, although he was paralyzed from the shoulders down. So he has been trying to recover ever since. He studied photography about the same time my human did, many years ago.
There are two buildings where we visit residents, and the second one was quieter. One guy kept asking if I scratched. As if! My human just politely said that I didn't. A couple of people wanted to spend time with me. The big room in this building had a piano, and a woman was playing some music. She said she was a retired RN. Most of the people were sleeping, or didn't acknowledge us.
I enjoyed visiting the patients who were happy to see me. As my human walked to her car with me in my sling, she noticed a sign in front of the first building. It said, "Heroes work here."
Other posts you'll enjoy:
* * *
---
---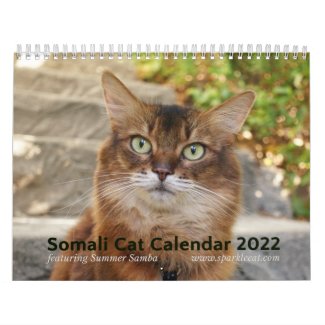 2022 Somali Cat Calendar Starring Summer Samba
See all of Summer's merch at her
her Zazzle Designercat Shop